On 6–8 September, London will be hosting the 12th Europe-Caucasus-Asia (ECA) Forum, which most of you may also remember as CIS Local Counsel Forum.Since 2016, the Forum is held under the auspices of the International Bar Association. This is IBA's only regional conference covering the post-Soviet region.
AEQUITAS Law Firm is a long-standing participant of the event. Over the past several years, Valikhan Shaikenov, AEQUITAS Partner and Head of Dispute Resolution, has been moderating sessions dedicated to dispute resolution in court and arbitration. This years' session will be dealing with "Planning and resolving construction disputes in the ECA region."
Beside the region-specific panels and discussions, fantastic cultural program and vast networking opportunities, the Forum attendees will have a chance to tap into a unique offer to visit the London offices of the leading law firms.
On 8 September 2017, fourteen international law firms and one bar association will open their doors for the IBA ECA Forum participants.
The event registration is open now.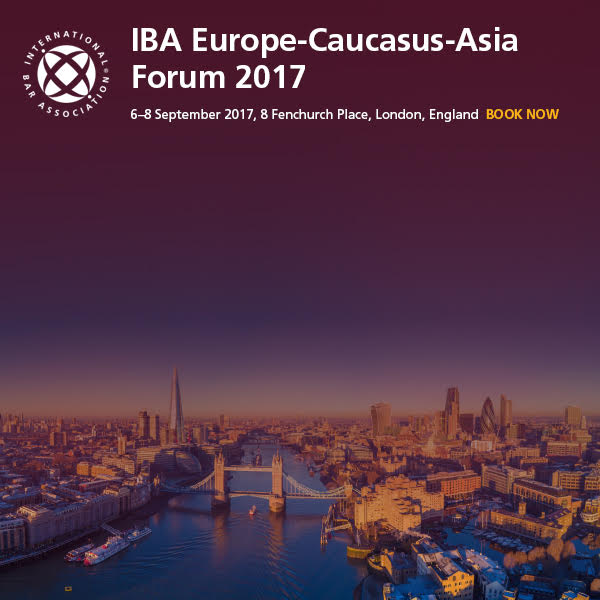 6-8 сентября в Лондоне в двенадцатый раз пройдет Europe-Caucasus-Asia Forum, который многие помнят как CIS Local Counsel Forum.
С 2016 года Форум проводится под эгидой International Bar Association. Это единственная региональная конференция IBA, охватывающая постсоветское пространство.
Один из постоянных участников мероприятия – Юридическая фирма AEQUITAS. Несколько последних лет Валихан Шайкенов ­– Партнер и Глава практики AEQUITAS по разрешению споров, модерирует сессии по вопросам разрешения судебных и арбитражных споров. В этом году организованная им сессия посвящена особенностям планирования и разрешения споров в сфере строительства в регионе ЕКА (Европа, Кавказ, Азия).
Кроме дискуссий и тем, адаптированных к региону, прекрасной культурной программы и обширных возможностей для нетворкинга делегаты Форума получат уникальную возможность посетить лондонские офисы ведущих юридических фирм.
8 сентября этого года четырнадцать международных юридических фирм и одна коллегия барристеров откроют свои двери для участников IBA ECA Forum.
Регистрация на мероприятие уже открыта.